~ sleeping secret ~
02 December 2003
how do you sleep? sideways? facing up? belly down? curling? according to an article in BBC News, i sleep in a Foetus position, the most common position.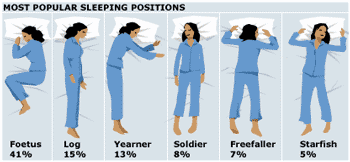 picture taken from BBC website.
that also means, i am "tough on the outside but sensitive at heart"…. tee hee! it's like those personality tests in emode. so, i always fall asleep in that foetus position, but always waking up in the Starfish position… what does that mean to my personality? maybe i'm also a good-but-sensitive friend who looks tough and dislike being a center of attention.
so, what's your sleeping position?